An evening feast!
Welcome to a world of relaxation, wine & cheese with our latest spa evening.
Arrive at The Spa from 5pm and enjoy three blissful hours indulging in our heat and hydrotherapy facilities including a hydrotherapy pool, steam room, sauna and experiential showers. Subject to government regulations. 
Relax under the stars in our rooftop hot tub with your private 15-minute hot tub experience. Head our tranquil Spa lounge where you will enjoy a platter of artisan local cheeses, with grapes, chutney and baguette. You will also enjoy a half bottle of wine per person with a choice of Chilean sauvignon blanc or Chilean merlot available.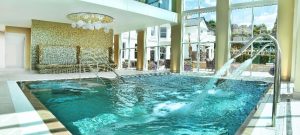 What's included:
Use of the spa for 3 hours between 5 pm and 8.30 pm
15-minute private hot tub experience
A platter of Artisan Local cheeses, with grapes, Chutney and Baguette along with a half-bottle of wine – 2 choices
Bag and Slippers
Price Per Person: £70.00
Book as a group of 4 and receive 10% discount!
Please note, this spa experience does not include any treatment time. Available Wednesday – Sunday.
To make a booking please call our spa team on 01638 676 130.