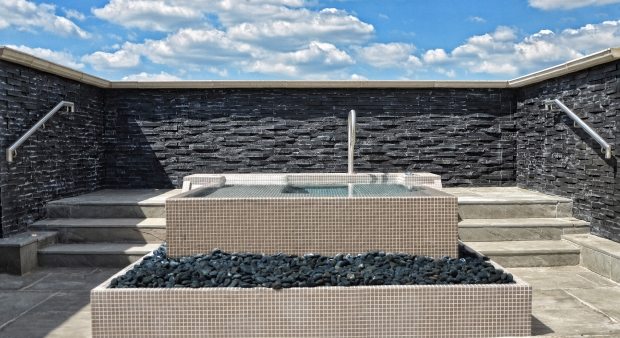 Enjoy 5 star luxury at our lavish spa and hotel in the Suffolk countryside, close to Cambridgeshire.
Designed with pure tranquillity in mind, our highly acclaimed spa boasts impressive facilities for a day of ultimate relaxation. With features including our stunning outdoor rooftop hot tub and hydrotherapy pool, there is plenty to do and lots of relaxing to be had! Our spacious hydrotherapy pool includes five unique water experiences with water jets to ease any tension in your neck and shoulders.
We also have a rasul for cleansing mud treatments, with private steam rooms for two with a selection of body muds to apply which detox and cleanse the body. As well as thermal areas and dedicated relaxation rooms, our spa has everything you could need.
We have various days, breaks and packages available at our luxury spa, from relaxation days, to our popular champagne spa day and spa days for two. There's something for everyone!
As well as our range of impressive facilities, our spa also boasts a luxurious lounge for a spot of lunch! If you can tear yourself away from the sauna, enjoy a range of light lunches and sharing platters. As well as a range of drinks, including champagne, wine and smoothies available throughout the day.
Or how about making a weekend of it? Our hotel breaks and packages are ideal for those wanting true downtime and a weekend of pure bliss. Our spa also boasts a 4 star hotel with chic and contemporary bedrooms, complimentary fitness centre and rosette winning restaurant. The perfect location to escape the stresses of daily life and enjoy quality time with friends and loved ones.
View our full range of hotel breaks and spa packages to see what's on offer. Our hotel and spa is the perfect base for a night at the races or for exploring nearby Cambridge!
Local Reviews
Frequently Asked Questions
What is the average travel time to your Spa?
Cambridge is a 30 minute journey from The Spa whether you are travelling by car or train.
What is the best route by car?
There are a few routes into Cambridge , the most direct route to travel by car from Cambridge is on the A14 via the A1303, details can be found here.
Is there any public transport available to the Spa?
We have a good rail connection from Cambridge with trains arriving every hour with only a 20 minute journey time. We also have a regular bus service with a journey time of around 1 hour running every hour throughout the day.
Will you book taxis or chauffeured limousines for us if requested?
Our reception team would be pleased to assist with booking taxis for any in house guests during their stay/visit. Anything more specialist such as limousines would need to be arrange by the guest themselves.
I am part of a group travelling from Cambridge, are parties of guests welcome at the Spa?
We can accommodate groups of up to 6 guests in The Spa.
What is the maximum number of people who can book the Spa at one time?
We accept bookings of 6 guests at one time.
Are discounts available for party bookings?
We offer a group discount on some of our spa days; Coffee, Chat & Chill and Fizz with Friends.
What are the most popular treatments available?
ESPA TIME is very popular. This is personalised to each guest following a consultation with one of our Spa therapists and means you get the most from your treatment time.
Is there likely to be room availability if we decide to stay for the night?
We recommend booking a room in advance to avoid disappointment, the hotel can get busy, especially at weekends. Bedford Lodge Hotel & Spa has 80 luxury bedrooms which are the perfect add on to really relax and unwind. We offer a range of Spa Breaks which include an overnight stay.
Is there a dress code for the Spa and Hotel?
No!