The perfect blend of indulgence…
Start your day off by arriving at our '5 bubble' rated spa, slip into a fluffy robe as you make your way through to our luxurious heat facilities (steam, sauna and experimental showers!)
Next, make your way through to our peaceful treatment room before experiencing a Balinese Massage with Hot Stones.
This warming treatment is perfect for these chillier days of Autumn. Gently heated aromatherapy oils are poured onto the centre of the body and massaged into the skin using stretching and sweeping movements for deep relaxation. Hot volcanic stones are used to tailor the massage pressure to your needs and release tension.
Next, indulge in the ultimate dining experience! Sit back and unwind whilst enjoying a luxury picnic hamper in our tranquil spa lounge.
You will be able to enjoy a delicious Afternoon Tea complete with a hot drink of your choice, traditional lemonade, finger sandwiches, plain and fruit scones and a selection of fabulous pastries. (See the full list below).
Your Picnic will be delivered to you in a Rattan Forage Basket and guests can enjoy a cosy and delicious afternoon in the spa lounge.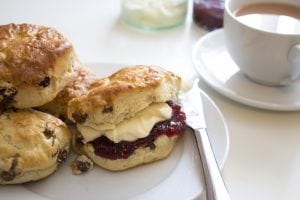 Full afternoon tea menu includes: 
Two bottles of traditional lemonade
Hot drink of your choice
Selection of finger sandwiches including; Local Smoked Salmon on Horseradish and Whole Wheat Bread, Cucumber & Cream Cheese on White Bread, Poached Norfolk Chicken & Grain, Mustard Mayonnaise on Tarragon Bread and Egg Mayonnaise & Sakura cress on Tomato Bread
Selection of savouries including; Smoked Salmon Scotch Eggs, Hand raised Pork pies, Goats Cheese and Red Onion Marmalade Quiche
Focaccia filled with Mozzarella, Parma ham and Rocket and Focaccia filled with Grilled Aubergine, Courgette, Peppers with Pesto and Cream Cheese
Freshly baked Fruit & Plain Scones served with Clotted Cream, Jam & Mandarin Curd
A selection of delicious cakes & pastries including; Dark Chocolate Dome with Shortbread base, Vanilla & Strawberry Macaron, Spiced Newmarket Cake, Mascarpone cream, Peach & ginger tart, Raspberry & chocolate layer, Rhubarb Eclairs & Citrus & Blueberry Tart
Package includes: 
Full use of the heat experiences
Luxury picnic afternoon tea for two
Balinese Hot Stones Massage (1.5 hour of treatment time pp).
Price Per Person: £142.00
Please note: This package is available for a minimum of two people. Offer available until 1st March, must be pre-booked.